Highmark Community Blue PPO insurance is a Medicare Advantage plan offered to folks in Pennsylvania. This plan is very popular, but is it good health insurance? Let's review some of its features and compare it to other plans.
Topics covered in this post:
If you are new to Medicare Advantage or don't know about the upcoming changes, check out my book on Amazon that spells everything out in pocket-sized form.
What does Highmark Community Blue PPO mean?
PPO stands for preferred provider organization. Highmark uses a network of high-value providers and prefers that you use them for your healthcare services. 
PPOs exist because the doctors have agreed to get paid a discounted rate in exchange for "in-network" status with insurance companies. PPOs are known for having relatively low deductibles but higher monthly premiums. 
To read more about PPOs, check out my article comparing them to HMOs.
Medicare Advantage PPOs
PPOs in Medicare Advantage are great because they allow you to receive amazing benefits at a low cost. PPO plans also typically have a ton of extra benefits which allow you to live a healthier lifestyle.
The main difference between Medicare Advantage PPOs and regular PPOs is the monthly premium. Medicare Advantage PPOs are in addition to the normal Medicare Part B premium, which is $148.50 in 2021. Regular PPOs from an employer often have higher monthly premiums than other plans, like HMOs and HDHPs. 
How much does Highmark Community Blue PPO cost?
In 2020, the monthly premium for Highmark Community Blue PPO Distinct plan was $35. This is in addition to the normal part B premium, which is $148.50, making a grand total monthly premium of $183.50. 
For the Community Blue PPO Signature plan, the monthly premium was $0 in 2020. This brings the grand total to $148.50 when the part B premium is considered.
What about the other costs of Highmark Blue PPO?
The out of pocket maximum for the distinct plan was $5,900. This means that regardless of your health expenses in a plan year, you will not pay more than $5,900. 
Some copays for common visits are below: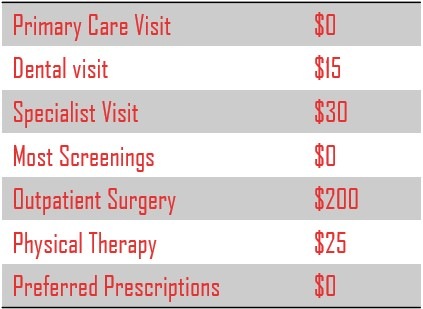 What benefits come with Highmark Community Blue PPO?
As mentioned before, Highmark has some unique benefits as a part of its Medicare Advantage portfolio. The below table is taken from the summary information from participating providers, which can be found here.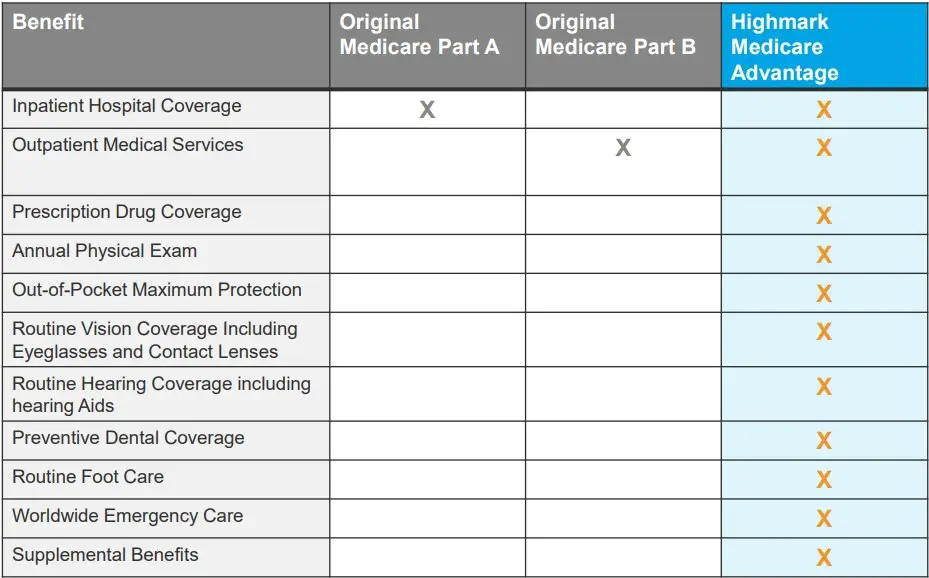 How does the Highmark Community Blue PPO compare to the Highmark Community Blue HMO?
HMOs, or Health Maintenance Organizations, are different from PPOs. HMOs tend to be lower cost, but more restrictive in the number of providers you can see.
HMOs require you to coordinate all of your care through your primary care provider. If you want to see a specialist, you need clearance from your primary care provider.
Cost comparison: Community Blue PPO vs Community Blue HMO
| | | |
| --- | --- | --- |
| In-network expense | Highmark Community Blue PPO | Highmark Community Blue HMO |
| Additional premium | $35 | $0 |
| Out-of-pocket max | $5,500 | $5,900 |
| Inpatient hospital copay | $250 | $325 |
| Primary Care visit | $0 | $0 |
| Specialist visit | $20 | $30 |
| Dental visit | $15 | Not Covered |
https://content.highmarkprc.com/Files/Region/hbs/2020/2020-ma-summary-info.pdf
My recommendation for Highmark Community Medicare Advantage
If you are considering a Medicare Advantage plan and live in eastern Pennsylvania, you really cannot go wrong with either product. If you like to have more choice in your provider and flexibility with your health insurance, go with the PPO. If you'd like to save a little bit of money and are happy to see any doctor, go with the HMO.
Highmark plans offer some wonderful benefits and can be easily purchased for $0 extra dollars per month. I recommend checking out my book on Medicare Advantage and making a purchase that fits your health needs.