One question I get all the time from friends and family is: what's the difference between deductible vs out of pocket max?  The two terms represent similar milestones in your health insurance plan, but are completely different. Let's explore further.
Here are the topics we will review:
What is a deductible in health insurance?
Your deductible is the amount of money YOU pay out-of-pocket before your health insurance plan starts paying for things. You've probably heard of deductibles with your auto or home insurance, and they work the same way.
How do deductibles work?
If you have a PPO, you can expect anywhere between $200-$500 for your deductible. With a high-deductible health plan (HDHP), you can expect between $1,000 and $3,500 for your deductible. Copays do not generally count towards your deductible.
What happens once I have met my deductible?
Once you have met your deductible, your costs generally decrease massively as your coinsurance kicks in. Coinsurance is a shared amount you pay with your insurance company. The most common coinsurance amount is 80%, meaning the insurance company covers 80% of costs once you meet your deductible.
Deductible amounts in different plans
Your deductible amount will change depending on the plan type and how many people are enrolled. PPOs and HMOs tend to have lower deductibles but higher monthly premiums. HDHPs have very high deductibles, but low monthly premiums. If you have multiple enrollees on the same health insurance plan, the deductible will be higher than if you are on the plan by yourself.
Why would you want a HDHP?
A high-deductible health plan (HDHP) sounds like a horrible idea given what I just told you. However, HDHPs often have low monthly premiums, or the amount that gets taken out of your paycheck. If you don't spend money on healthcare, then you can save big by having a cheaper insurance plan. HDHPs also come with health savings accounts (HSAs) that allow you to purchase all sorts of health expenses with a tax-advantaged account.
What is an out of pocket max?
An out of pocket max is the maximum amount of money that you can pay in a given plan year. This includes your deductibles, copays, and any coinsurance.
Why out of pocket maximums are a good thing
This helps protect against exorbitant costs. This is a security feature not found in traditional Medicare, but is a part of Medicare Advantage plans. The chart below will help clarify the distinction between what you pay and what the insurance company will pay. This is an example that highlights potential cost sharing.

The difference between deductible vs out of pocket max
Once you have paid for health expenses until your deductible has been met, your health insurance will then kick in and start paying coinsurance. After coinsurance has reached a certain total out-of-pocket amount, you will reach your out-of-pocket max. At this point, you no longer are responsible for medical expenses in the plan year.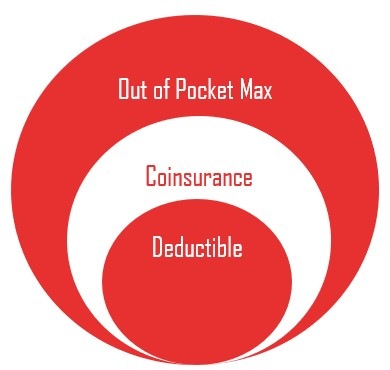 The deductible amount, coinsurance percentage, and out-of-pocket maximum are all found in your summary of benefits provided by your health insurance company.
Take advantage of your out-of-pocket maximum
Picking the right health plan is an underrated and underappreciated way of building wealth. You can save tons of money by selecting a plan that fits your specific needs. In order to pick the best plan, you need to understand the basics of health insurance. These aren't difficult to get down, but can often become confusing when picking a plan. Terms you will want to know are deductible, copay, coinsurance, and out of pocket max. Copay and coinsurance are relatively straightforward, but deductible and out of pocket max can often get confused. Let's start with deductible.
Medicare and the out of pocket maximum
If you have Medicare, you are not protected by an out of pocket maximum. Medicare Advantage plans do have out of pocket maximums and can protect you from financial catastrophes.
Check out my book on Amazon to learn more:
Bottom Line
You have immense power to change your relationship with health insurance from an expense to a wealth-building tool. Learning the difference between deductible and out of pocket max will help you avoid unexpected expenses and save money on health insurance.
If you need help learning more, check out my book on Medicare Advantage.