Mutual of Omaha offers Medicare supplemental health insurance, also known as Medigap. In this post I will cover what these plans offer, what they cost, and whether or not I think Mutual of Omaha offers a good product. Specifically, I will review Mutual of Omaha Supplemental Medicare Plan F, Plan G, and Plan N.
Here are the topics we will cover in this guide:
Supplemental Medicare is different from Medicare Advantage. If you are interested in learning about Medicare Advantage, check out my book on amazon.
What does Mutual of Omaha Supplemental Medicare cover?
Mutual of Omaha offers several different supplemental Medicare plans, but today I will cover the three most popular. As a refresher, Supplemental Medicare plans are standardized – meaning they all offer the same benefits regardless of who is offering them. Mutual of Omaha's specific coverage will not differ from other health insurance companies of the same plan type. 
What are the top Mutual of Omaha Medigap plans?
The most popular supplemental Medicare plans that Mutual of Omaha offers are Plan F, Plan G and Plan N. Sadly, Plan F is being phased out and is no longer available for new enrollees. Make sure to note that plan offerings differ by zip code, so F, G and N may not be the only plans available in your area.
The below chart will detail the differences between the types of plans, but Plan G has been a favorite of mine. Plan G is very similar to Plan F and is the most comprehensive Medigap plan being offered to new enrollees.
To learn more about open enrollment for Medigap, click here.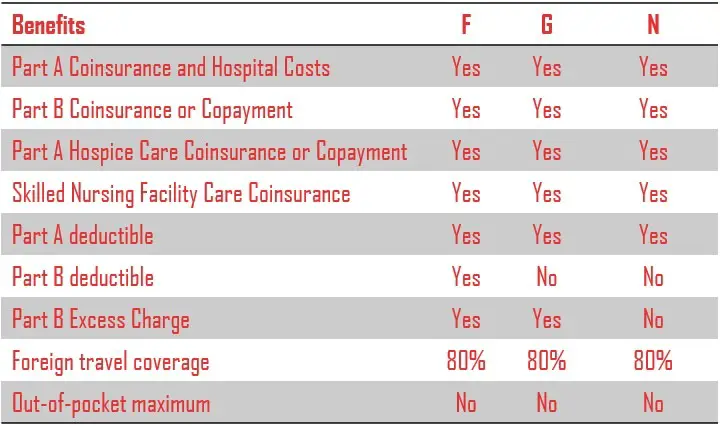 Mutual of Omaha Plan G vs. Plan N
As you can see from the above chart, G and N are very similar plans until you get to the Part B excess charge. The Part B excess charge is levied when you visit a doctor who does not accept Medicare Part B. In addition, they may upcharge you as a penalty, which is covered under Part G but not Part N. This is important for people who travel or spend a lot of time in other parts of the country, as they may visit a new doctor.

Other than the excess charge difference, Plan G and Plan N are identical. Moreover, both provide coverage for Part A coinsurance, deductible, hospital costs and hospice care. One downside to these Medigap plans is the absence of an out-of-pocket maximum to help keep total costs under control. This is a feature unique to Medicare Advantage, which I couldn't find anything about on their website (I think it isn't offered in my area).
Is Mutual of Omaha Supplemental Medicare good?
It depends on what you are looking for in a Medigap provider. One thing I love about Mutual of Omaha is their website. Their website is easy to use, contains easy-to-read text, and does a great job of laying out the important parts of their plans.
As I mentioned earlier, Medigap plans are standardized across all insurance companies. Therefore, the primary differentiator between insurance companies is the customer service you receive.
When evaluating Medigap plans, its important to pick a plan from an insurance company that you trust and has a good reputation. Mutual of Omaha seems to be an easily accessible company that offers good customer service.
How much does Mutual of Omaha supplemental Medicare cost?
Mutual of Omaha Medigap plans cost between $89 and $134 per month depending on the plan type. Plan N is the cheapest while Plan F tends to be more expensive.
These quotes are specific to your zip code, so make sure to check your local costs. You may also qualify for discounts if more than one person signs up at a time.
What to know before picking a Mutual of Omaha Medigap plan
Mutual of Omaha can change the prices of your supplemental Medicare plan each year. These often result in price increases as you age. If you are just enrolling in Medicare for the first time, this may be very enticing. Keep in mind that prices will rise and that you may want to explore your options again each year.
The Bottom Line
If it were up to me, I would pick Medigap Plan G from Mutual of Omaha. This is the most comprehensive Medigap plan for new enrollees in 2021 and going forward. Keep in mind that Plan F, the previous most comprehensive plan, is no longer available. If you need help picking a plan, let me know.
If you're interested in Medicare Advantage, check out my book on Amazon: click here to learn more.